A traditional Berber Guest House in Ouirgane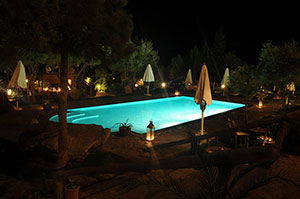 Around a beautiful swimming pool of 13 by 6, lined with pink, corolla spread in a building comprising central reception, 2 dining room with terrace, bar, reading lounge and 5 lodges each filled 1 or 2 suites all overlooking a small garden individually. Everything drowned in olive trees, greenery and flowers. Whether outside (foundations of stone, ocher walls of red brick crowned with earth embankments in ears, old doors of old mosques or barns salt) or inside (ceiling box wood oleanders, zelligs, earthenware, Tadelakt), the entire architecture breathes by traditional Berber. Like the cedar furniture and decoration based wrought iron, pottery, carpets and wool blankets from the Atlas. Not forgetting, of course, the superb attempt Caidal.
Happiness In The High Atlas Chains
If it is a place where tradition is synonymous with comfort, it is « Chez Momo II. »
Comfort of a hotel quality, but simply to live with and « live feel» in the midst of silence and scents of the forest nearby. At nightfall, the lamb Tagine Zahra accompanied by homemade bread and oranges with cinnamon, enjoyed on the terrace or in front of a wood fire in the fireplace, they do not already have the beginnings of a happiness that we may extend a « glass» by the pool or at a myriad of candles had ceased to be reflected in the green water. . .

« Like Family» with the sweet sensation of being « home» and, according to the mood, to be received or to receive his friends. . . But how could it be otherwise when the always smiling Mina brings to you morning coffee and beghrir (pancakes) and a small flower picked in front of your door, when the server Mouss serves mint tea as delicious as his humor when titivate Omar « his» garden and Fouad proposes to you kindly give your receipt so you can send a mail to tease your children or friends . . . you! Without the presence of efficient and discreet Momo, the boss, who watches carefully and bonhomie over its entire « household».